In order to determine the Premier League football clubs with the most loyal supporters, Betway has revealed which teams are inspiring the most fan tattoos.
Visit Betway's football betting page.
Fan Tattoos: The Premier League's most committed supporters
In a world where fandom is increasingly fleeting, football fans are taking a more permanent approach to showing their love for their team. Tattoos are becoming an increasingly popular way to show devotion, and it's almost impossible to go to a league game these days without catching a glimpse of crests, player portraits, banners, or even victory dates.
But which Premier League clubs are inspiring the most fan tattoos? To find out, we used Google search data and TikTok hashtag views to discover how many people are searching for tattoos related to each club in the Premier League and which have seen the most popularity.
To get inside the minds (and skin) of these passionate supporters, we also spoke to a few fans about the stories behind their tattoos and what inspired them to get inked in the first place.
The Premier League clubs inspiring the most fan tattoos
1. Manchester United
According to the study, Manchester United has the most loyal supporters, with the club inspiring more fan ink than any other club in the Premier League. Fans are searching for the term 'Manchester United tattoo' and 'Man Utd tattoo' attracting 13,200 searches per month around the world, nearly 160,000 per year! TikTok hashtag views for Man U-inspired ink also reach an impressive 418,100, more than any other team in our analysis.
Between the historic reign of Sir Alex Ferguson, and countless football legends like Beckham and Ronaldo, Man United has given fans endless feats to boast about.
2. West Ham
West Ham United has the second most-loyal fanbase, with the terms 'West Ham United tattoo' and 'West Ham tattoo' being searched for an average of 5,800 times per month. West Ham ink also has around 301,400 hashtag views on TikTok.
Ranging from hammers to bubbles, West Ham supporters aren't in shortage of creative tattoo ideas. The club's motto 'Fortune is always hiding' is also quite common, reflecting the trust West Ham supporters have in their club.
The club picked up their first piece of silverware in decades towards the end of last season, winning the Europa Conference League, which no doubt inspired plenty of Hammers to head down to the tattoo parlour.
3. Arsenal
In third place are the runner ups of the 2022/23 Premier League, Arsenal. The terms 'Arsenal tattoo' and 'Arsenal FC tattoo' have a combined total average search volume of 8,360 searches per month (over 100,000 each year), and Arsenal-inspired ink has 75,100 TikTok hashtag views.
Arsenal truly made their fans proud last season (2022/23), scoring a total of 88 goals – which was 30 more than Man United, who came third. Whether they were going for a classic cannon, or an image of the Gunnersaurus mascot, it comes as no surprise that fans were looking to get their team permanently inked on them.
4. Liverpool
Liverpool takes fourth place with fans searching for the terms 'Liverpool tattoo' and 'LFC tattoo' an average of 7,800 times per month. The team have considerably less TikTok hashtag views for inked up fans at 9,215.
Between winning the Premier League after a 30-year wait (2019/20), to winning the UEFA Champions League six times, Liverpool has given their supporters a lot to celebrate. Whether they're choosing the iconic Liverbird emblem, or inking 'You'll Never Walk Alone' across their arms, it stands to reason that fans would want to show their love back.
5. Chelsea
Chelsea F.C. rounds off the top five Premier League teams with the most loyal fans that are getting inked up, with 37,000 searches each year for fan-based tattoos. The club's support across the world is also reflected in its TikTok hashtags around team tattoos, which amount to an impressive 61,500 in total.
Most popular Premier League clubs based on number of fan tattoos:
Despite their success in winning the Premier League in 2022/23, Manchester City rank sixth in our study. Interestingly though, monthly searches for Man City tattoos spiked in June 2023 following their season victory, going from 1,900 average monthly searches to 6,600, a 247% increase!
London team Tottenham Hotspur rank seventh, whilst Newcastle United, Everton and Aston Villa round off the top 10 list.
Real life stories behind football fan tattoos
Arsenal Tattoo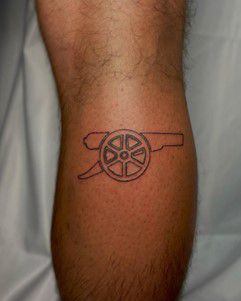 Arsenal Tattoo - Alex
West Ham Tattoo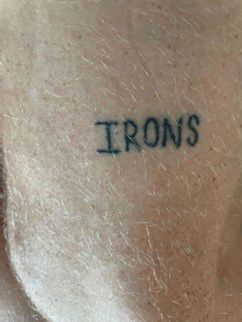 West Ham Tattoo - Calvin
Manchester United Tattoo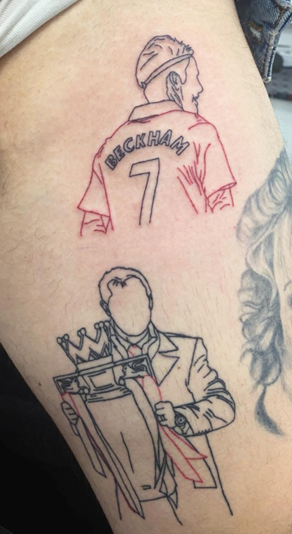 Man United Tattoo - Lewis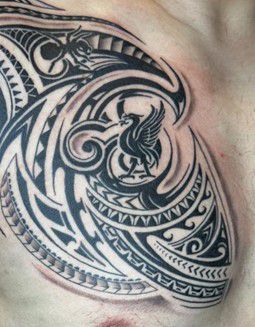 Liverpool Tattoo - Steve
Conclusion
Football fans choose to tattoo themselves for a number of reasons, whether it's to show their unwavering loyalty towards their club, or to display an important part of their identity, or even to commemorate an important milestone. It seems, however, that some club supporters are more likely to express their love than others, particularly fans of the more successful Premier League teams. With the price of tattoos depending on their size and detail, some supporters could simply be waiting to see their club win a title for a tattoo they can cherish forever.
So, would you ever get a football fan tattoo? It's a big decision – but it can be a meaningful way to show your unwavering loyalties to your team .
Methodology & Sources
Betway used search volume and TikTok hashtag data to determine the most popular fan tattoos on football teams in the UK.
Betway pulled together a seedlist of the 2023/24 Premier League teams. These were then ranked according to the following metrics:
Google search volume – using Google Analytics – Keyword Planner, worldwide data was collected over a 12 month timeframe. Search terms used were '[football team] + tattoo' TikTok hashtag views – search terms used were '[football] + tattoo'